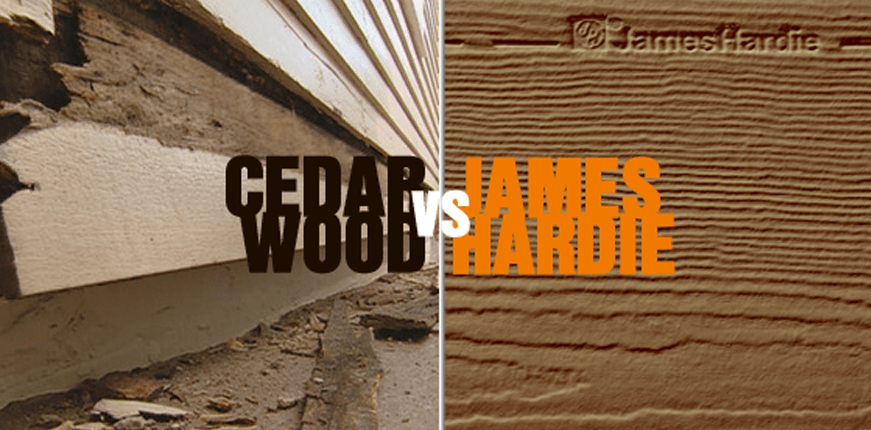 posted by:

admin
March 25, 2010
No Comments
Cedar siding, while beautiful and natural, has seen its time come and go. The vast majority of the old growth cedar has been decimated. Cedar siding of today is full of resin and tannic acid; it forces paint and stain off within one year. The cedar shakes are thin and therefore, warp and cup within five years. Maintenance is frustrating at best. HardiePlank lap siding and HardieShingle siding are low maintenance exterior siding products that hold their shape, hold paint and are more cost effective than cedar.
CEDAR SIDING
Combustibility
Burns when exposed to a significant source of heat or flame, not eligible for non-combustibility insurance discounts
Aesthetic Performance
High maintenance is required for cedar siding in order to maintain original aesthetic performance
Pests
Susceptible to damage by termites , woodpeckers and other pests
Endurance
Can split and crack over time, extreme weather causes expansion and/or contraction, knots have a tendency to shrink resulting in unsightly gaps and exposure to moisture damage, moisture issues cause paint failure
Uniformity
Dwindling availability of quality old-growth forest supply can result in inconsistent surfaces, cracks, knots, and other imperfections resulting in construction waste, sorting through random board lengths and qualities can be time-consuming, susceptible to resin/tannin bleeding
Consumer Perception
Cedar siding is viewed as high-end, but consumers are wary of high maintenance required.
JAMES HARDIE SIDING
Combustibility
Non-combustible, creates very little smoke when exposed to flame, eligible for some insurance discounts due to non-combustibility
Aesthetic Performance
Increased curb appeal and appreciation, consistent beauty from porch to street
Pests
James Hardie siding is impervious to termites, woodpeckers and other insects
Endurance
Dimensionally stable, will not rot, warp, buckle, swell, or deteriorate even in the harshest climates, maintains original appearance over product lifetime, holds paint longer than wood
Uniformity
Consistent building surface, no cracks, knots, or other imperfections, less construction waste, reliable supply available
Consumer Perception
Premium alternative, high-end, advanced technology