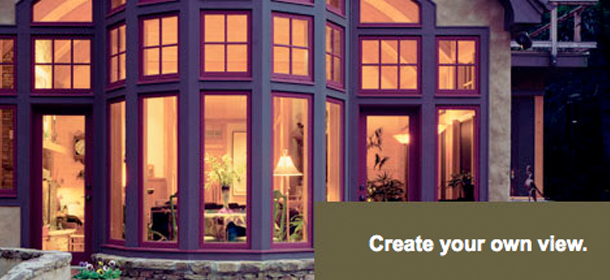 posted by:

admin
June 16, 2010
No Comments
Stimulus Package Offers Up to $1,500
Marvin windows and doors aren't just beautiful – they can help you save energy. Virtually all Marvin products already meet or exceed federal ENERGY STAR guidelines. Now, you may qualify for a federal tax credit of up to $1,500 under the new stimulus program when you install energy-efficient Marvin windows and doors. The folks at Marvin are committed to providing you with durable, high-performance products that bring lasting value to your home. We will help you choose the windows and doors that give you the personalized look you desire – and the energy efficiency you need. Whether you're building new or looking at remodeling or replacement, there's never been a better time to purchase distinctive, energy-efficient windows and doors that are Built around you®.
Energy Efficiency Made Easy
Always striving to meet the needs of an ever-changing environment, Marvin builds energy effiency into product performance while bringing your inspiration to life. Marvin offers a variety of energy efficient glass options: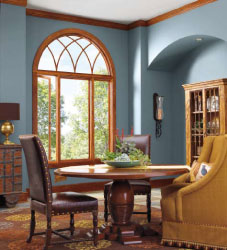 Low E II – Low E II features a double metallic coating on the inside glass surface to reflect or absorb the sun's warmth and reduce damaging UV rays. Offers enhanced U-factor and Solar Heat Gain Coefficient.
LoE-366 Glass – Featuring three metallic layers of silver, this glass rejects solar heat and features a lower Solar Heat Gain Coefficient than Low E II. Recommended for warm climates where cooling costs are high and also for areas where intense exposure to the sun is an issue.
High-R Tripane – Features two layers of Low E glass with a clear center pane for a lower U-factor.
Marvin also offers these enhancements to further increase the energy efficiency of your windows:
Energy Panel – Often confused with storm windows, an Energy Panel is a glazing option consisting of a removable, exterior glass panel finished on the edges by a surround. Energy panels cover the exposed glass surface of each sash, and offer added energy efficiency for wood windows with single glazing.
Storm and Screen Combos – A combination unit is composed of two movable glass panels and one movable screen panel. The individual panels can be configured multiple ways, and can be easily removed from the interior for cleaning.
Things To Know About Energy Efficiency
Understanding these common terms will help you select the right windows and doors.

U-factor – This measures the rate of heat loss and how well a product insulates. The lower the number, the better a product is at keeping heat inside a building. The U-factor is key in the winter months, and important to consider in choosing a window.
Solar Heat Gain Coefficient (SHGC) – This measures how well a product blocks heat from the sun. The lower the number, the better. In southern climates or high sun intensity areas, you might actually want to keep the sun's heat out of your house. Windows can help do that.
R-value – This measures resistance to heat loss. Many people are familiar with the R-value because of its use in home insulation. But actually, for windows and doors, U-factor and solar heat gain coefficient are more important measurements.
Design Pressure Rating – The "DP" measures the amount of pressure a door or window will withstand when closed and locked. Each DP rating also establishes other performance factors such as water penetration; air infiltration; structural pressure; forced entry; and operational force. The higher the DP numbers, the better the performance. Look for the certified hallmark of the Window and Door Manufacturers Association.
To request more information about Marvin's energy-efficient product offerings, give us a call.