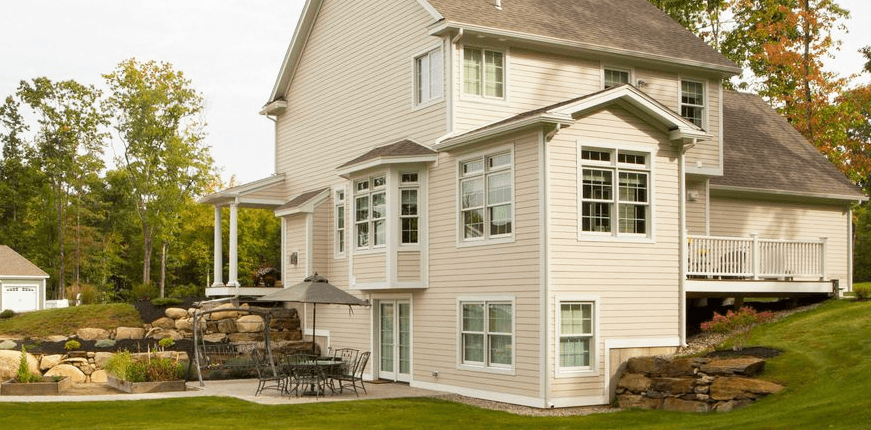 posted by:

admin
February 10, 2010
No Comments
Do people drive past your home and drool? Perhaps stopping you to ask for your number – to the contractor you used to beautify your home? If not, it might be time to re-side your house.
If your home looks faded or is lagging behind your neighbors, re-siding can be the quickest and most cost-effective solution to update and beautify.
Curb Appeal.
Depending on the siding material, you will have an array of choices to update, improve, or even change the look of your home. Upgrading from vinyl siding to fiber cement siding, for example, opens up your possibilities. James Hardie Building Products, Inc. offers a wide variety of fiber-cement sidings, from boards that resemble wood to panels that look like stucco—and all are available with factory-applied paint in a broad range of designer colors.
Maintenance.
Re-siding decreases or even eliminates maintenance of your siding. With vinyl, regular cleaning and washing is necessary to keep the vinyl siding looking crisp. With wood siding, you will still need to re-paint every few years. Fiber cement siding, on the other hand, can be virtually maintenance-free for decades.
Resale Value.
Re-siding can be a good investment. According to the 2009 'Cost vs. Value Report', conducted by Remodeling magazine, re-siding with fiber cement siding, for example, has the highest return-on-investment (ROI) for remodeling projects costing more than $1,200. In fact, fiber cement siding has had the highest ROI for each of the past five years.
Energy Savings.
New siding materials, methods and technologies can substantially lower your utility bills. For example, installing insulation under new siding can dramatically decrease your heating and cooling costs and make your home more comfortable.
Environmental Impact.
Today's siding products are greener than ever. Many include recycled materials. The U.S. Green Building Council, for example, recognizes fiber cement for its durability and sustainability.
Architectural Style.
Some sidings don't lend themselves to certain designs.
Neighborhood.
Walk your surrounding streets to see what siding types are most prevalent. Homes that fit into a neighborhood tend to sell better.
Climate.
Some siding materials don't lend themselves to certain climates. Vinyl and wood siding, for example, don't fare as well in climates with high UV or dramatic temperature changes.
Insurance.
You may qualify for a discount on homeowners insurance when you re-side with masonry or fiber cement, because they are both durable and non-combustible.
Maintenance.
If you don't like to work on your house, avoid wood and wood composite sidings, as these options require frequent upkeep and re-painting.
Cost.
The cost of re-siding varies by region, but typically vinyl and wood composite are on the low side, fiber cement is in the middle and cedar and masonry are at the upper end.