posted by:

admin
March 10, 2015
No Comments
Service Excellence Award, powered by GuildQuality, honors Homescapes of New England.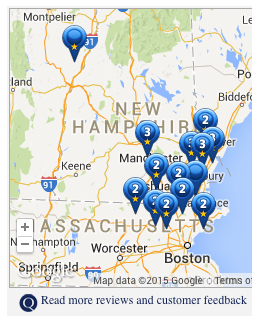 Epping, NH, 2/12/15-Homescapes of New England, LLC , exterior remodeler in Nottingham, NH, has been awarded a 2015 James Hardie Customer Service Excellence Award for exceptional customer service. GuildQuality, an independent customer satisfaction surveying company, powered the award on behalf of James Hardie Building Products Inc. ("James Hardie") to celebrate service excellence within the James Hardie Contractor Alliance Program.
"A professional approach to customer service before and after the job is a cornerstone of membership in the James Hardie Contractor Alliance Program," says Marc Setty, Business Manager for the repair and remodel segment at James Hardie. "We are thrilled that so many of our program members strive to achieve GuildQuality's highest standards for customer care, year after year."
Homescapes of New England, LLC was selected as one of the top eight James Hardie Contractors by GuildQuality and James Hardie for superior delivery of customer care.
"James Hardie has established an elite group of contractors who are aligned with its business, and we were honored to work with them again this year to power the Service Excellence Award," said Mark Miles, Chief Operating Officer for GuildQuality. "This year's winning companies really went above and beyond to deliver an exceptional customer experience and we were happy to recognize their hard work."
In granting awards, GuildQuality and James Hardie consider three primary metrics for each candidate: the percentage of customers who would recommend the company, the percentage of 3s and 4s across all questions, and the percentage of customers who responded. Homescapes of New England, LLC achieved a recommendation rate of greater than 95% from their customers, who were surveyed through GuildQuality.
"We were honored to receive this award and want to thank all of our customers for allowing us to work with you on transforming your homes", Lynette Rogers owner of Homescapes of New England, LLC. "We make sure the homeowner is a part of the process from beginning to end."
###
About James Hardie Building Products, Inc.:
James Hardie is the global leader in fiber cement technology, and has been furthering founder James Hardie's innovative, entrepreneurial legacy around the world for more than 125 years. It invented fiber cement siding products in the early 1980s as a durable, lower-maintenance alternative to wood and vinyl. Its products combine innovation and versatility to offer a variety of design possibilities, matched with specific performance attributes relative to the climate where the product is being used. Currently installed on more than 5.5 million homes in North America, James Hardie has earned a favorable reputation within the industry and has been specified in some of the country's most prestigious projects. For more information about James Hardie, visit http://www.jameshardie.com.
About GuildQuality:
The nation's best contractors, remodelers, and homebuilders rely on GuildQuality's customer satisfaction surveying, performance reporting, and marketing resources to help them deliver exceptional service, and to articulate the quality of their work to prospective customers. For more information, visit http://www.guildquality.com/.