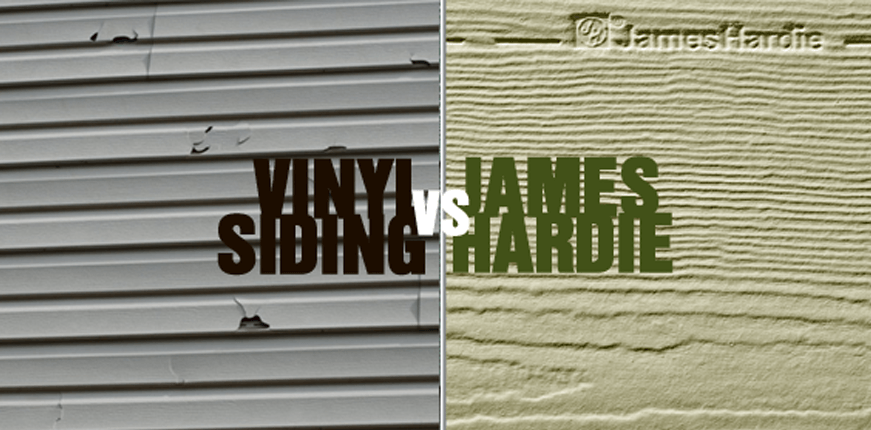 posted by:

admin
March 26, 2010
No Comments
There is a reason vinyl siding is piling up in landfills across America. The vinyl siding backer does not appreciatively protect against the hail storms we experience. Hail batters vinyl siding and high winds blow the product off the wall. There are thousands of homes across the Northeast that are on their third layer of vinyl siding in the last 10 years. Hardieplank stands up to hail amazingly. Its composition of Portland cement and cellulose fiber, along with the manufacturing process protects you from today's severe weather. Vinyl siding warps as it ages, due to its composition, and does not hold color well at all. For those who care about the environment, vinyl siding is not a viable option.
VINYL SIDING
Combustibility
Other Vinyl Siding melts or burns when exposed to a significant source of heat or flame, releases toxic fumes when burns, not eligible for non-combustibility insurance discounts.
Color
The color of vinyl siding cannot be changed once installed, bland pastel colors recommended to delay fading, vinyl on different sides of the house fade at noticeably different rates, repairs/replacement pieces
are obvious, almost impossible to do partial homes because limited color options means often cannot match current color of other sides of the house.
Aesthetic Performance
Vinyl Siding: Thin, unnatural imitation wood look, overlapping seams, limited textures, decreases curb appeal and appreciation.
Durability
Vinyl Siding is brittle when cold, vulnerable to impact and/or wind damage, extreme weather causes expansion and/or contraction
Endurance
Due to thinness of product, vinyl siding has difficulty maintaining its original shape, may warp or crack over time
Environmental Impact
Fossil fuels required as a component of vinyl siding
Consumer Perception
Research shows that within five years over half of homeowner's with vinyl siding would have considered a different siding method
JAMES HARDIE SIDING
Combustibility
Non-combustible, will not melt or release toxic fumes, eligible for some insurance discounts due to non-combustibility.
Color
This siding can be painted in any color of the rainbow whenever desired, excellent color retention lasting many years. Or available with ColorPlus Technology which has a 15 year finish warranty.
Aesthetic Performance
Deep, realistic wood grain with less pattern repetition, available in various grain finishes, solid boards are more than five times the thickness of vinyl siding, increases curb appeal and appreciation, consistent beauty from porch to street
Durability
Designed to last a lifetime, withstands winds up to 130 MPH, 30-year nonprorated product warranty
Endurance
Dimensionally stable, will not sag or lose its shape over time
Environmental Impact
Environmentally neutral
Consumer Perception
Premium alternative, high-end, advanced technology, Natural compliment to stone and brick-work. Homeowners happy with their siding choice.